Whenever you think of Architects, what immediately comes to your mind? A man's figure or a woman's one?
Exactly! The most known Architects in the world are usually male figures. However, today there is a considerable emerge of female fantastic Architects all around the world. Thus, Australian Architecture would definitely not be apart from this international movement.
There is this whole new generation of great female Architects whom should definitely be advertised and celebrated! Off course not disregarding the oldest generations. Those are as especial as the new one, however they should be object of a different post, or even many different posts, in the future.
Gender roles discussions apart, women are usually known as the ones who integrate people inside their families. The ones who are worried about gathering and reuniting people. Therefore, that way of thinking could be transferred to spatial planning and turned into amazing Architectural Masterpieces such as the very famous MASP (Museu de Arte de Sao Paulo) designed by Modern Brazilian Architect Lina Bo Bardi in Sao Paulo (Brazil) in the late 1960's (see image bellow extracted from: https://pt.wikipedia.org/wiki/Museu_de_Arte_de_S%C3%A3o_Paulo) which until today houses big political movements and public events.
Returning to Australian context I just recently found, by "accident", a very interesting book in the bookshop just around the corner from my place in New Farm, Brisbane. When I saw it I was instantly thinking: "Man, that would give a great post!". And here I am now writing about it.
So, the book was originally released in 2016, but it is still very up to date! It is very well illustrated and it's got the Architects' ideas, viewpoints and also interviews. Very cool stuff! I recommend it for anyone interested in Australian Architecture. In summary it presents the story of 20 Australian women in Architecture (Title: "Chasing the Sky – 20 Stories of Women in Architecture").
I am such a lucky person that one of the buildings portrayed at the book is just around the corner, again (lol)! I could just confirm something I have already noticed about the quality of this particular urban space which is all the time on my way. So before you die of curiosity (lol), the specific building is the James Street Market, project of 2003 by Cox Rayner Architects (check it out at: https://www.coxarchitecture.com.au/project/james-street-market/?discipline=architecture), with the collaboration of one of the female Architects in the book, Ingrid Richards.
Another coincidence to be mentioned, I was just recently, in my previous job, designing the interiors for this Medical Centre located just nearby this beautiful market and had the chance to go around an see a bit more of it and also to enjoy it at one of our on site meetings.
This particular project was completed in 2003 but still looks great and very well integrated to its surrounds, the James St.'s very welcoming tree lined section. The brand new The Calile Hotel, which recently opened in the beginning of the current year, just integrates beautifully with this commercial centre which mix gorgeous landscape design with beautiful historic based Contemporary Architecture and very functional Urban Design. Some of the fancy shops around this area have also beautiful interiors design, however, the bigger scale urban design is just fantastic and puts everything together in such a balanced way.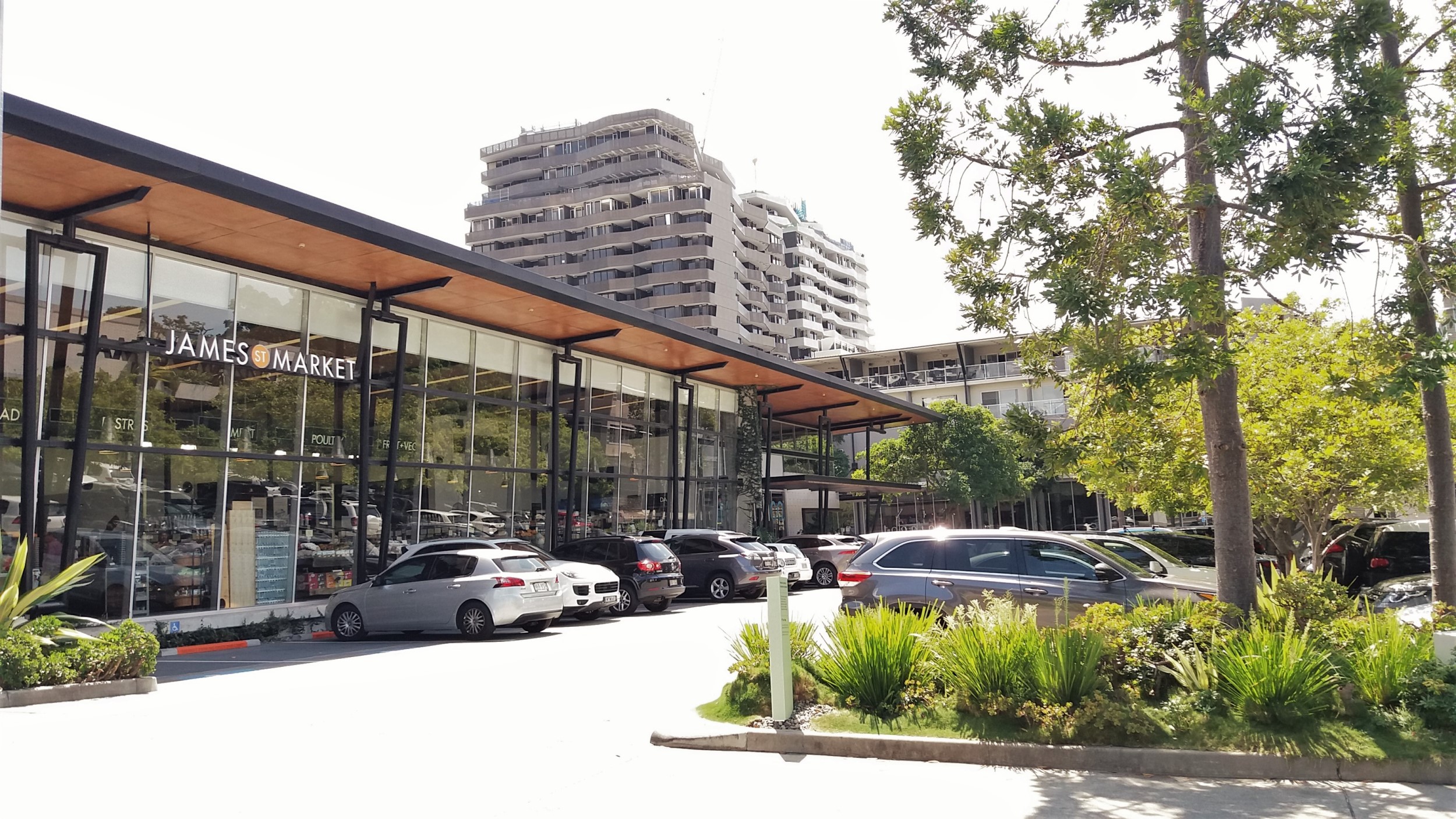 For all the Archilovers, once in Brisbane, just have a walk around James St. (New Farm Suburb) and check out this amazing piece of Architecture located close to Brisbane's central area which plays around with retail typology making you feel so comfortable that you just don't wanna leave.
*All the images in this post belongs to the writer´s personal gallery and correspond to intellectual property, otherwise as noted.