How's it going mates? I've been recently to Chiang Mai in northern Thailand, the capital of Chiang Mai Province. I've got to tell ya…it is such a charming town! I was delighted by its beautiful energy.
There is so much history, so many gorgeous Buddhist temples, religion is so rich, there is so much soul…It felt actually like home. By the way, Chiang Mai's Buddhist temples, over 300 of them, are quite unique. They are sort of a mix of Chinese, Japanese and Thai traditional Architecture. You can even find a little bit of Indian Architecture influence as well. It is so diverse and rich, as you can see through this post's pictures.
The city, founded in between the years of 1294 and 1296, is settled by one of the most important rivers of its region, the Mae Ping River. This one in confluence with the Nan River forms the big Chao Phraya River, which runs South to Bangkok's direction. Its strategic location contributed to the city's historic importance, considering it is close to major trading routes, such as the historical "Old Silk Route". Situated up in the mountains Chiang Mai was founded in the 13th Century as the new capital of Lan Na, or Lanna Kingdom, succeeding the former Capital, Chiang Rai.
It was originally a square shaped planned city with surrounding walls, from which you can still find some ruins today, built to defend it against eventual attacks. Most of the main Buddhist temples are located inside or around the "Old City" area (The big square) and were built in the East-West orientation. (East is the most important direction in most temples because the Buddha was said to have been facing east beneath the Bodhi tree when he attained enlightenment. Thus, the main entrance doorway often faces east as well.) However, the town developed through time and expanded much beyond the old defensive walls.
Today Chiang Mai is the largest city in northern Thailand, with almost 1 million people in the metro area, and presents a very vibrant contemporary scene. Besides the traditional Yoga Courses and Thai Massage houses it also offers new artistic spaces such as galleries, nice clothing ateliers, cool cafes and co-working spaces, which give local artists the opportunity to showcase their very unique works.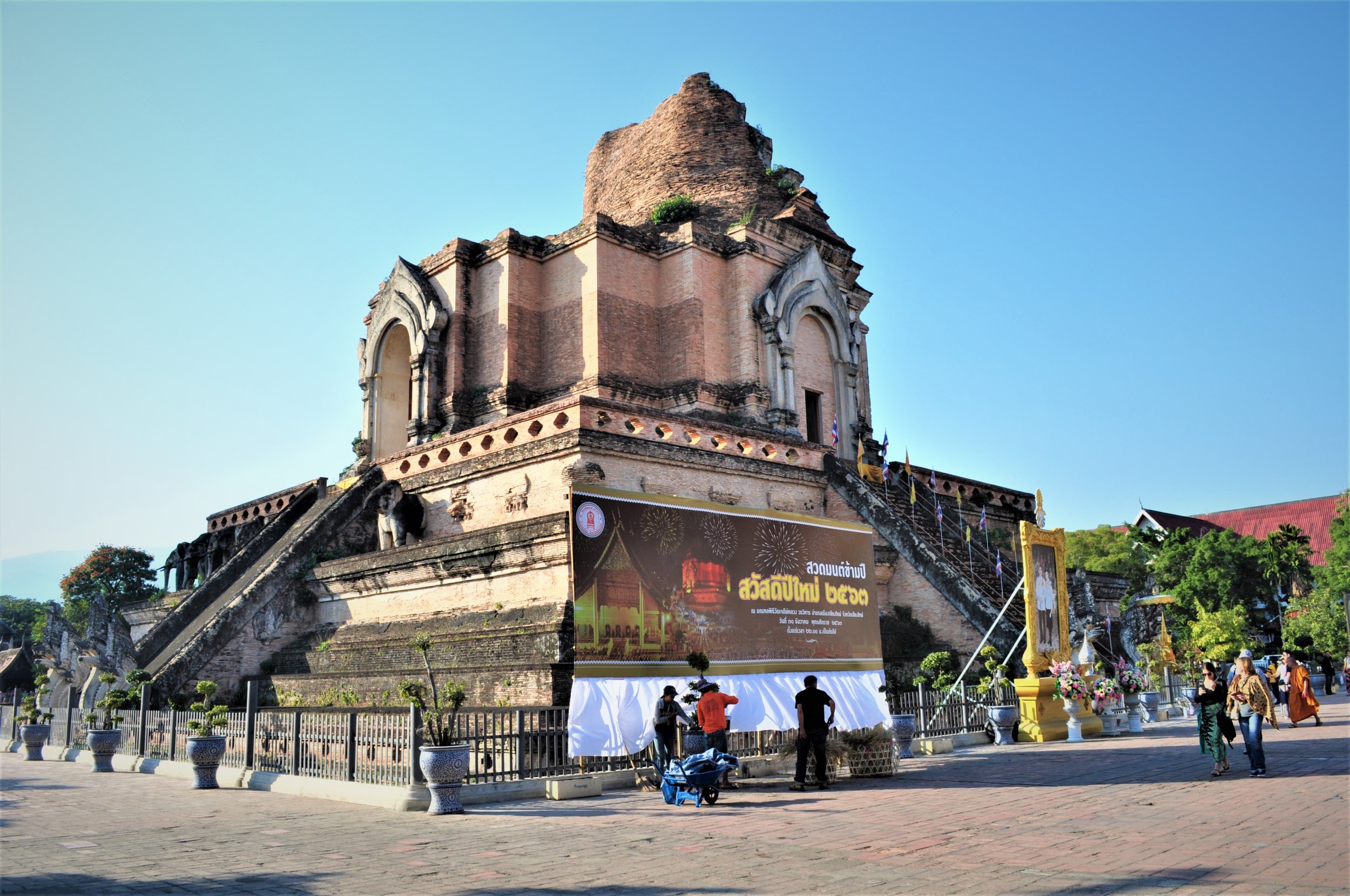 Whatever reason takes you to Thailand one day, don't' forget to visit this very pleasant and cool (I mean cooler, much cooler than Bangkok's temperature!) town and have a blast with the best Yoga you can get, the very relaxing Thai massages, great Thai food cooking courses, delicious food, wonderful hikes and off course, the gorgeous Buddhist temples.
*All the images in this post belongs to the writer´s personal gallery and correspond to intellectual property, otherwise as noted.
Important Sources:
https://en.wikipedia.org/wiki/Chiang_Mai
https://en.wikipedia.org/wiki/Lan_Na
https://www.theguardian.com/travel/2016/mar/26/chiang-mai-guide-thailand-activities-hotels-restaurants-bars
https://en.wikipedia.org/wiki/Ping_River
https://www.telegraph.co.uk/travel/picturegalleries/8157518/Discovering-Thailands-Buddhist-temples.html?image=4